Eastport, Lubec, Machias, and St. Andrews are centers of artistic activity. Painting, quilting, and photography are popular. Consult chambers of commerce, tourist literature, or downtown shops and galleries for more information.
Wild native berries can be found locally: strawberries in late June; raspberries in July; blueberries in late July or early August; and blackberries in August. Blueberries for personal use may be picked at the Baring division of Moosehorn National Wildlife Refuge.
Back to top
Nearly all Day Trip destinations including parks and hiking trails are suitable for birding. Some favorites: land birds, Moosehorn Wildlife Refuge; saltwater birds, Boot Head Preserve and South Lubec Sand Bar (Lubec), all ferry trips, and Machias Seal Island (by scheduled boat from Cutler).
Back to top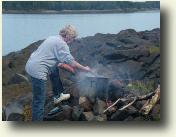 Clams for personal consumption may be dug on the Ross property or at other locations without a license. They may be cooked in a bucket or large pot over a fire on the beach (a real clambake) or on a stove. A clam fork and buckets are available in the cottage shed.
Back to top

Saltwater fishing is generally done off docks, especially at Eastport, or from private or chartered boats. Inland fishing is by boat or on foot. Small mackerel are caught by rod and reel in August at Eastport, and some flounders and others by hand from boats. Overfishing has severely depleted saltwater species and sea-run Atlantic salmon. Inland fishing success varies greatly by location and species. Maine requires a license for inland but not for saltwater fishing.
Back to top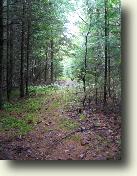 A booklet of Cobscook Bay area hiking trails is available at the cottage, as is a Maine Atlas of topographical maps. A 1.5-mile loop hike starting at the cottage follows the shore along forested cliffs and returns along the beach or the cottage road.

Other hiking sites: Bold Coast Trail, Cutler (35 miles); Boot Head Preserve, Lubec (28 miles); Cobscook Bay State Park (12 miles); Commissary Point and Rocky Point (Trescott, 25 miles); Hallowell Island Preserve, Edmunds (12 miles, boat access only); Herring Cove Provincial Park, Campobello Island (35 miles); Horan Head (Lubec, 28 miles); Morong Point (Trescott, (25 miles, no trail markers); Shackford Head State Park (Eastport, 16 miles); South Lubec Sand Bar (Lubec, 31 miles); Devil's Head (Calais, 24 miles); and many others. Copies of Cobscook Trails Guide is available from Downeast Coastal Conservancy (Whiting, 18 miles). www.quoddyloop.com/parks.htm www.downeastcoastalconservancy.org.
Back to top
Red Beach, 22 miles.
St. Croix Island is the site of one of the early French attempts to settle North America in 1604-05. Displays include bronze sculptures and artifacts at the visitor center in Red Beach and history/artifacts at Downeast Heritage Museum in Calais. View of, but no access to, the island. No admission fee.
Back to top
Nearly all lakes and streams are accessible, and saltwater bays/coasts. Ocean currents, winds, and fogs can be dangerous and the Labrador Current keeps the saltwater cold all year. Cobscook Bay is sheltered, and can be explored from the beach at Ross Cottage (best not to leave boats on the beach overnight or below high tide line). Eastport and Lubec are less than ten miles by water from the cottage. Some kayak/canoe rentals are available in the area.
Back to top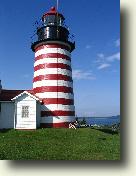 At least six lighthouses are accessible though towers are not open to the public. The famous West Quoddy Head Light south of Lubec has a visitor center and museum. Head Harbour Light at the northeast end of Campobello Island has grounds access only at low tide. Mulholland Point Light at the east end of the island has picnic facilities. Letite Passage Light at Letite, N.B. offers a museum. Leonardville Light on Deer Island can be reached by footpath. Whitlock's Mill Light, 3 miles south of Calais is close to US Highway 1. Others in the Quoddy Loop include Pea Point Light near Blacks Harbour, Little River Light near Cutler, and Lubec Channel Light – none accessible by road. See www.quoddyloop.com/lights.
Back to top

Within 50 miles of Ross Cottage guests may visit: Roosevelt Campobello International Park (30 mi); and Ross Museum (St. Andrews, 50 mi.). Others exist in Calais, Charlotte, Eastport, Lubec, Machias, Quoddy Head State Park, Robbinston, and St. Stephen.
Back to top
Available at nearly all Day Trip facilities. Please help keep Washington County clean and beautiful.
Back to top

Most nearby lakes including Round Pond and Boyden Lake (both ca.15 miles) have public access beaches. These two lakes have shallow, sandy beaches ideal for small children. The saltwater, fed by the Labrador Current, is generally considered too cold for comfortable swimming but wading is done at Ross Cottage and other ocean beaches.
Back to top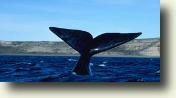 Large whales arrive around mid-August and stay for several weeks. They are often seen from land at Eastport, Lubec, Quoddy Head State Park, or East Quoddy Head. They are commonly seen from the ferry between Black's Harbor, N.B. and Grand Manan Island. Most likely seen are finbacks, Minkes, pilot whales, humpbacks and, nearer Nova Scotia, Atlantic right whales. Harbor porpoises and white-sided dolphins are fairly common. Scheduled boat trips are available at Eastport, Lubec, Cutler, St. Andrews, and Blacks Harbour.
Back to top